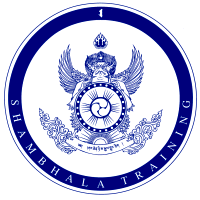 Shambhala Path Meditation Instructor Training
with Shastri Janet Solyntjes & Jeffrey Scott
The Shambhala Meditation Centers and Groups of the Midwest and Shambhala International are pleased to offer a training program for Shambhala Educators who feel inspired and ready to continue along the path of helping others on their meditative journeys. Shambhala Path Meditation Instructor Training offers a powerful opportunity to deepen your own understanding of the Way of Shambhala path and to train in working with students on that path.
Please note: Due to the Covid-19 pandemic, we have changed our venue. This is now a pilot online SPMI Training. We have adjusted the Program and Patron prices accordingly.
Shambhala Path Meditation Instructor (SPMI)
When we support students along the Shambhala path, we are bringing together the Shambhala principle of basic goodness and meditation practices that are the distillation of thousands of years of practitioners' experience. We are helping others to recognize that meditation is a portal through which we can discover our innate human capacity for wakefulness, wisdom and compassion—and to learn how to bring those qualities into our lives, creating good human society.
Skillfully guiding others in the journey of meditation requires knowledge based on studying view and practices of meditation, as well as on deep personal experience. The SPMI needs to be able to authentically meet each student where they are and provide the appropriate next step on the path of meditation, and to do this in an environment of kindness, acceptance and understanding.
This training offers a strong foundation in knowledge and skills essential to being a Shambhala Path Meditation Instructor. We will review the fundamental teachings of meditation, and study and practice how to support students both within and between the Way of Shambhala programs and courses. Participants also will deepen their understanding of the practices of listening, reflection and inquiry, and will practice ways in which to bring these skills into their work with students.
Prerequisites
Authorization as a Shambhala Guide and having served in that role for at least six months
Completion of Enlightened Society Assembly (and its prerequisites) or Sutrayana Seminary
Completion of Warrior Assembly (and its prerequisites)
Having taken both the Shambhala Vow and the Enlightened Society Vow
Having coordinated at least one Shambhala Training level
Strong daily meditation practice
Active membership in a Shambhala Center (exceptions may be made for individuals who do not live near a center)
The Training Program
The training includes an opening evening session followed by six full days. Participation in the training does not guarantee authorization. Those who successfully complete the training will be authorized to work with students within and between programs and courses, focusing primarily on matters related to meditation practice.
Prior to the live online training, participants will be expected to engage in specified study and practice and to complete two online courses that offer important content in support of the training. There is a separate modest fee for these courses (for which discounts also are available).
Application Process & Deadline
In addition to an application, two recommendations are required: one from the applicant's Meditation Instructor and one from the center's Shastri or Director of Practice and Education. (Exceptions to this will be considered if the applicant does not live near a center or is affiliated with a small Shambhala group.) One of the recommenders must agree to mentor the applicant for at least one year following completion of the training.
All three documents (application and recommendations) must be submitted no later than the extended date of May 29, 2020. Since those accepted will need time to do a good deal of preparatory study and practice prior to the in-person training, the sooner one applies and is accepted, the more time one will have to engage in this preparation. Early application is also encouraged as this training is now limited to 12 participants.
To request the Application and Recommendation materials, email [email protected]. Please write SPMI Training 2020 in your subject line. Thank you.
Questions
Please direct any questions you may have to Steven Anderson at [email protected]