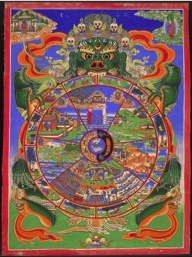 Hinayana:The Second Noble Truth *via Zoom*
with Ann Tyndall
This Shambhala online course will include talks by Acharyas John Rockwell and Dale Asrael and live discussion within our group. We'll consider The Second Noble Truth: The Origin of Suffering. Having recognized the truth of suffering and the confusion that is pervasive in our life, we naturally have questions. How does this state of suffering arise? Where does confusion come from? Our innate intelligence begins to explore the subtle layers of experience, going deeper and deeper until we come to the heart of our being. In this in-depth exploration of the Five Skandhas, we will touch these layers or constellations of experience one by one, starting from the unconditioned, innate ground of open space, and see how we fabricate our own world of projections. Zoom link and suggested readings will be sent after registration.
Our Generosity Policy
In order to make our programs accessible to everyone, we have a "pay what you can afford" policy. If the program price is an obstacle for you, please decide what works for you and offer whatever you can.
For those who can offer more than the program price, we have a "patron price". Your generosity in offering the patron price helps cover the costs for others who are not able to pay the full price and will help the center during a time when course income is reduced.