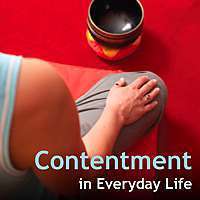 Contentment in Everyday Life Via Zoom
with Steven Anderson & Steven Anderson
Contentment can be hard to find. Much of the time we search for contentment in things, achievements or relationships. With meditation practice, we relax with ourselves and appreciate simple human experiences. Difficult emotions and the challenges of life can be met with gentleness, mindfulness and inquisitiveness. The purpose of Contentment in Everyday Life is to introduce an experience and understanding of contentment as the foundation for both the spiritual path and a sane life.
The path of Shambhala is here to awaken us to the potential of our lives. It teaches us how to live meaningfully and vigorously, with joy. Its ancient but practical wisdom allows us to discover unconditional human confidence. Through the practice of meditation, we discover that goodness, strength, and wisdom are inherent in our own mind and being. Having gained this insight, we are able to maneuver through life with courage, intelligence, and compassion. Daily life becomes an opportunity to further cultivate these qualities. In Shambhala this journey is exemplified by the tiger, lion, garuda, and dragon—four animals that each reveal to us a specific wisdom. As we fully realize these enlightened qualities, we are able to rouse them for a world that desperately needs this knowledge and experience. I look forward to working with you as we make this journey together.
-Sakyong Mipham Rinpoche
You should try to have the following books available for this class:
Turning the Mind into an Ally by Sakyong Mipham Rinpoche
Ruling Your World by Sakyong Mipham Rinpoche
Shambhala: The Sacred Path of the Warrior by Chogyam Trungpa Rinpoche
Other readings will be emailed to you in PDF files or handed out at class.
There is a limited number of these books that can be checked out from our library, located in the lower level of the Center.
Our Generosity Policy
In order to make our programs accessible to everyone, we have a "pay what you can afford" policy. If the program price is an obstacle for you, please decide what works for you and offer whatever you can.
For those who can offer more than the program price, we have a "patron price". Your generosity in offering the patron price helps cover the costs for others who are not able to pay the full price.
Please contact Steven Anderson, Director of Practice & Education, with any questions about this program at [email protected]