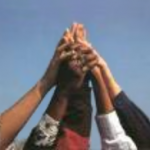 Saturday Night Discussion Group - Summer Series
Saturday Night Discussion Group – Via Zoom
Every Saturday, 7:30pm to 9:00pm
Summer Series: Beginning July 4, we will read and discuss How to Be an Antiracist by Ibram X. Kendi.
Facilitator Emma Hixson serves on the Shambhala Minneapolis Governing Council and works in labor relations. She served as Minneapolis Civil Rights Director from 1984 to 1994 and has taught human relations classes at St. Cloud University and University of St. Catherine.
Book Summary
Antiracism is a transformative concept that reorients and reenergizes the conversation about racism – and, even more fundamentally, points us toward liberating new ways of thinking about ourselves and each other. In How to Be an Antiracist, Kendi takes readers through a widening circle of antiracist ideas – from the most basic concepts to visionary possibilities – that will help readers see all forms of racism clearly, understand their poisonous consequences, and work to oppose them in our systems and ourselves.
Because the book study is progressive in nature, participants need to join by the third week – July 18. Keeping up with the reading will enable participants to miss some Saturdays and still be able to fully participate.
The discussion group is free, but register to receive the Zoom information.
For more information, contact Emma Hixson at http://[email protected]
Note: The book is available for Kindle or Nook. Hardcopies may be hard to find, but these websites show availability: Barnes and Noble, Penguin Random House, Books A Million. You can also try libraries and used book stores.