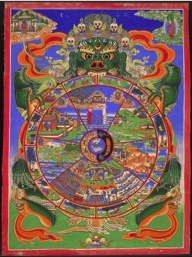 Distance Dharma
with Prof Sue Stephens
Distance Dharma is a relaxed group that meets on the first and third Thursdays of each month. Started as pre-pandemic pilot program for members and friends unable to get to the center regularly, Distance Dharma is now a regular ongoing group. A selected dharma topic serves as a focus for wide-ranging conversations marked by sharing, connection, laughter and mutual support for practice and path.
Our first two sessions centered around a selected book, making it hard for people to join in midstream. This time we want to widen the circle! Folks are welcome to join us for the entire session, or to join us whenever they can.
In this session, Sue Stephens will be leading us in learning about the Buddhist guidelines for doing no harm known as Precepts. Each meeting we'll consider one of the precepts, and explore how web might relate to them on our individual path. While reading suggestions may be offered, they will not be required.