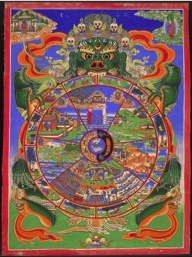 Hinayana:The Third Noble Truth *via Zoom*
with Ann Tyndall
This class presents the third noble truth, Freedom from Suffering, and begins with an exploration of the 3rd Foundation of Mindfulness, Mindfulness of Effort.
The foundational teachings of the Buddha indicate that the suffering we experience in our lives can come to cessation if we recognize, deeply and profoundly, how that suffering has arisen. Contemplating cessation of suffering, we first see the accessibility of the third noble truth as the gap. We are basically good. Realizing this to be true is that simple, and we are glimpsing this all the time.
If you have not taken the first classes in this series you are welcome to join. When registering indicate you are new and we will arrange a brief lesson regarding the preceding classes.
Our Generosity Policy
In order to make our programs accessible to everyone, we have a "pay what you can afford" policy. If the program price is an obstacle for you, please decide what works for you and offer whatever you can.
For those who can offer more than the program price, we have a "patron price". Your generosity in offering the patron price helps cover the costs for others who are not able to pay the full price and will help the center during a time when course income is reduced.