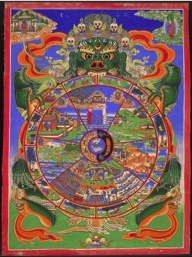 Hinayana:The Fourth Noble Truth *via Zoom*
with Ann Tyndall
We have been studying the Buddha's first teaching: The Four Noble Truths. After teaching that suffering is pervasive to all experience, that there is a cause to that suffering and that cessation is possible, he then taught a way forward, which we call "The Path." In fact, everything he taught and all of our experience as practitioners comprise "The Path." In this course, we will examine Path from multiple perspectives of what has been taught and what is experienced by we individuals walking this path.
If you have not taken the first classes in this series you are welcome to join. When registering indicate you are new and we will arrange a brief lesson regarding the preceding classes.
Our Generosity Policy
In order to make our programs accessible to everyone, we have a "pay what you can afford" policy. If the program price is an obstacle for you, please decide what works for you and offer whatever you can.
For those who can offer more than the program price, we have a "patron price". Your generosity in offering the patron price helps cover the costs for others who are not able to pay the full price and will help the center during a time when course income is reduced.