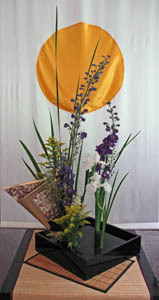 Date:
Saturday, September 18, 2021 (10:00 -12:00)
Saturday, October 9, 2021 (10:00 -12:00)

Location:
Main Shrine Room
Coordinator :
Wanda Davies
Contact person : Wanda Davies
The Art of Japanese Flower Arrangement - Ikebana
The Art of Japanese Flower Arrangement - Ikebana with Anne-Lise Whitescarver REGISTRATIONS CLOSE SEPT. 8.
Sogetsu is one of the creative movements within the world of Ikebana, the ancient art of Japanese flower arrangement. The Sogetsu school of Ikebana was founded in 1927 by Mr. Sofu Teshigahara with a revolutionary interpretation of classical Ikebana, emphasizing that Ikebana can be "arranged anywhere at any time by anyone using any materials".
Members and Friends who would like to learn this art form for personal use or to uplift the Shambhala Center of Minneapolis for programs are warmly invited to register. The class size is limited so please register as soon as possible. This program is open to the public.
About our teacher, Anne-Lise Whitescarver:
A native of France and now a resident of Minneapolis, Anne-Lise Whitescarver began her Sogetsu Ikebana studies in 1999 while living in Hong Kong and continued them while living in Japan, Switzerland, and the United States. What started as a hobby became a passion.
Anne-Lise's approach to Ikebana reflects a deep appreciation for Japanese culture and has been
greatly influenced by her teachers, including the master instructors at Sogetsu's Headquarters in Tokyo. In Minneapolis, she is a student of Yoshie Babcock RIJI, who holds the highest teaching rank in the Sogetsu school of ikebana. Anne-Lise likes to use bold containers and unconventional materials, including wood structures that she makes herself, in her arrangements. She has participated in many group exhibitions and organized a solo exhibition while living in New York. She has also studied pottery. Anne-Lise is a member of the Sogetsu Teachers Association and holds teaching credentials from that school. She is a member of Ikebana International Tokyo and she is also the 1st Vice President of Ikebana International Minneapolis St. Paul Chapter 121.