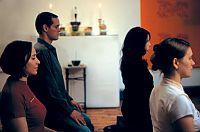 Date:
Friday, May 14, 2021 (18:00 -19:30)
Saturday, May 15, 2021 (10:00 -19:00)
Sunday, May 16, 2021 (10:00 -19:00)

Location:
Main Shrine Room
Teacher :
Acharya Arawana Hayashi
Coordinator :
Wanda Davies
Contact person : Wanda Davies
Through the practice of meditation, we glimpse unconditional goodness as the ground of our existence.
Opening to ourselves with gentleness and appreciation, we begin to see our potential as genuine and compassionate human beings. When we truly create the time and space to dive fully into meditation practice, we are able to experience the possibilities of openness and relaxation that exist when we settle fully into the present moment. This training is an opportunity to work directly with experienced teachers and qualified instructors, and to engage meditation practice in a deep way – discovering what occurs through extended sessions of sitting meditation, walking meditation and mindful movement exercises.
We will gather together at the center to participate in this program, gaining the wisdom of a highly regarded teacher and the energy that comes of discussing and practicing together. Acharya Arawana Hayashi will be teaching via Zoom.
Those who have previously taken this weekend are welcome to retake for a $50 fee. Use the Pay What You Can Afford field for payment.
Generosity policy applies, pay what you can afford.