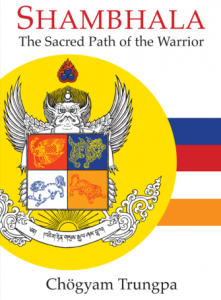 Date:
Sunday, January 23, 2022 (19:30 -20:30)

Contact person : Wanda Davies
Sacred Path of the Warrior book study
Join us for this study of Chogyam Trungpa's book The Sacred Path of the Warrior. This practical guide to enlightened living offers an inspiring vision for our time, based on the figure of the sacred warrior learning to master the challenges of life.
Study of chapter 20 (part 1). Each class we read and discuss a chapter. We start the class with a summary of the chapter so it is not necessary to have read the book. Each chapter can stand by itself so join even if you have not read earlier chapters. No prerequisites and no preregistration needed.
Copies may be available to check out of the Center library.