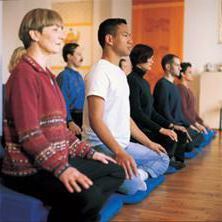 Shambhala Training Level I: The Art of Being Human
with Ann Tyndall
This meditation retreat presents the view that human beings, at their core, are fundamentally awake. We usually associate happiness with fleeting moments of satisfaction, pleasure or comfort, but the Shambhala teachings and the meditation practice they are based on can lead us to a deeper and more enduring wakefulness. This is the path we set out to explore in Level 1 as mindfulness practice begins to open us to the depth and dimension of the present moment where we learn to appreciate who and what we really are.
Shambhala Training Level 1 : The Art of Being Human introductory weekend explores and deepens the basic technique of mindfulness meditation. By allowing our mind and body to settle, we begin to see the magic of the world beyond our habitual filters. We can provide the space to appreciate our human life, to make friends with the full range of our experience including challenging emotions as well as simple delight.
The Art of Being Human is designed for new meditators or those looking to reconnect with meditation practice. Students leave with the tools they need to bring a meditation practice into their daily lives.
This weekend includes:
Guided meditation instruction and practice
Talks by an experienced teacher in the Shambhala tradition
Group discussions led by meditation instructors
Note: if you have taken the program and want to repeat it, the repeat fee is $50.
Our Generosity Policy
In order to make our programs accessible to everyone, we have a "pay what you can afford" policy. If the program price is an obstacle for you, please decide what works for you and offer whatever you can.
For those who can offer more than the program price, we have a "patron price". Your generosity in offering the patron price helps cover the costs for others who are not able to pay the full price.